In today's fast-paced world, time is crucial, especially for agents who handle multiple tasks, including prospecting, to connect with potential customers. Fortunately, Mojo's innovative new list rules feature brings automation to the rescue.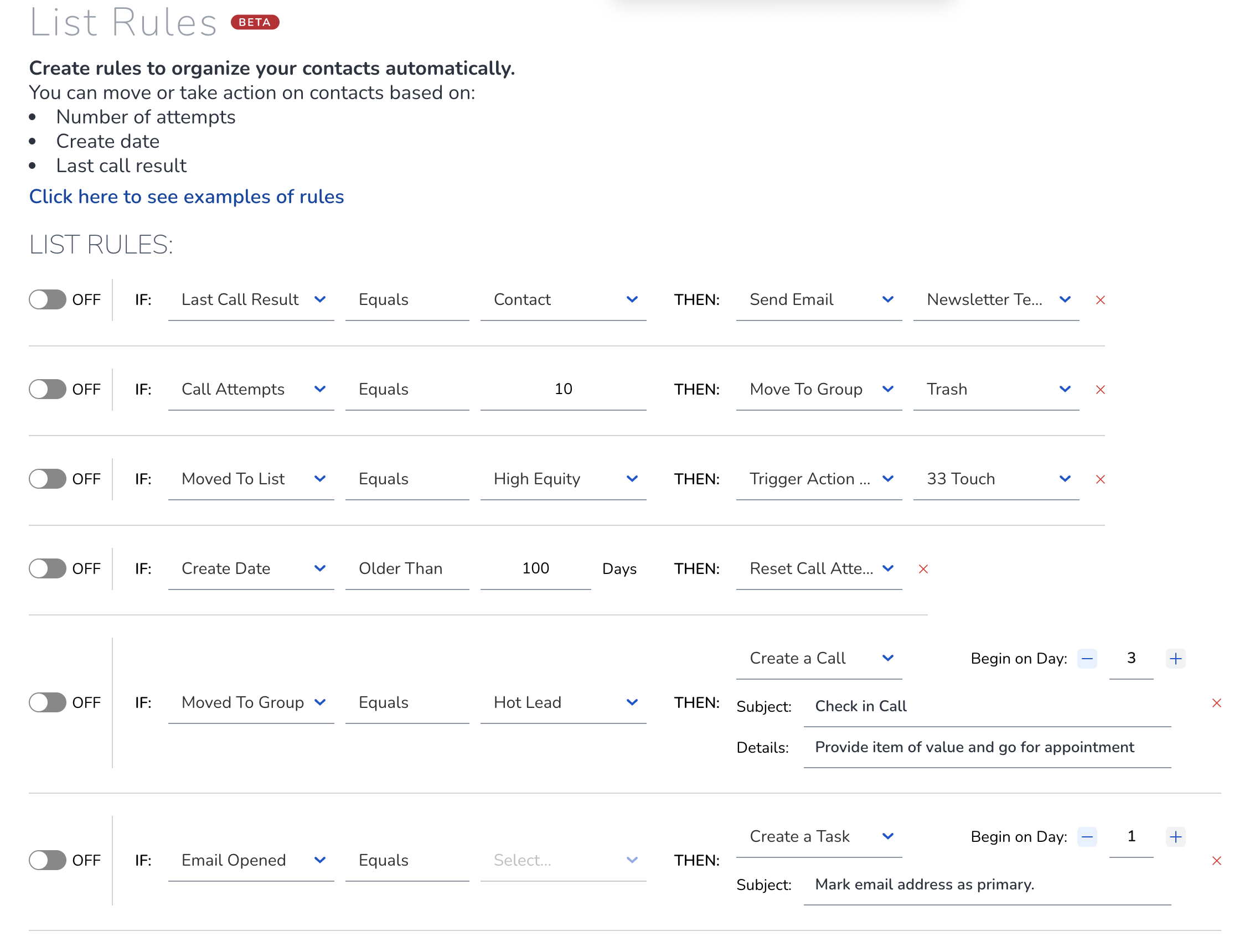 Mojo has revolutionized list management by using "if this, then that" rules, increasing agent productivity while minimizing mundane work. In this blog post, we will explore how Mojo's list rules can improve your prospecting significantly.
1. Automating List Maintenance:
Agents that prospect face many tasks that can impede their ability to focus on meaningful connections with potential customers. Examples of these tasks include list organization and categorization, which can consume significant time and energy. Mojo's list rules simplify this process by automating actions based on specific conditions or triggers, making list management effortless for agents.
2. Implementing Customized List Rules:
One of the significant advantages of Mojo's list rules is the ability for agents, managers, and team leaders to define actions based on predetermined conditions. For instance, they can set up a rule that if a prospect is "not interested," they will automatically be removed from the active calling list. By implementing such rules, managers ensure that agents prioritize prospects with a higher likelihood of conversion, saving both time and effort. This targeted approach to list management can significantly improve the efficiency of your time on the phone.
3. Streamlining Popular Prospecting Tasks:
Another valuable feature of Mojo's list rules is the capability to automate widely used workflows by some of the most productive agents. For example, moving leads from a list automatically when they reach a certain number of attempts or sending emails based on reassigning contacts to a different list or group. You can even start action plans based on whether an email has been opened. See our list of available triggers and actions in the post below.
4. Enabling Dynamic List Assignment/Moving:
Mojo's list rules offer a game-changing solution by enabling dynamic list segmentation. This is achieved by automating the process of adding or removing leads based on specific actions. For example, if a lead expresses interest, Mojo's list rules can automatically add them to a specific list for more targeted follow-ups. This ensures that agents engage with leads more likely to convert, thus increasing overall efficiency and reducing the chances of missed opportunities.
5. Reducing Manual Follow-Up Tasks:
Following up with leads is vital for nurturing relationships and converting prospects into customers. However, manually managing follow-up tasks can be time-consuming and prone to errors. Mojo's list rules automate follow-up tasks by triggering reminders or scheduling callbacks based on specific conditions. This frees up agents' time, allowing them to focus on building relationships rather than managing follow-ups manually. By automating this critical aspect of the sales process, agents significantly improve their efficiency and effectiveness in converting leads
Mojo's new list rules feature, with its "if this, then that" automation capabilities, offers brokers, managers and team leaders a game-changing solution to increase agent productivity and minimize time spent on mundane work. Teams will reclaim valuable time, allowing agents to focus on their strengths – connecting with leads and converting them into appointments, listings, and sales.
*As of this writing, List Rules are only available in Mojo's New Design Concept, currently in Beta testing and available to all clients.