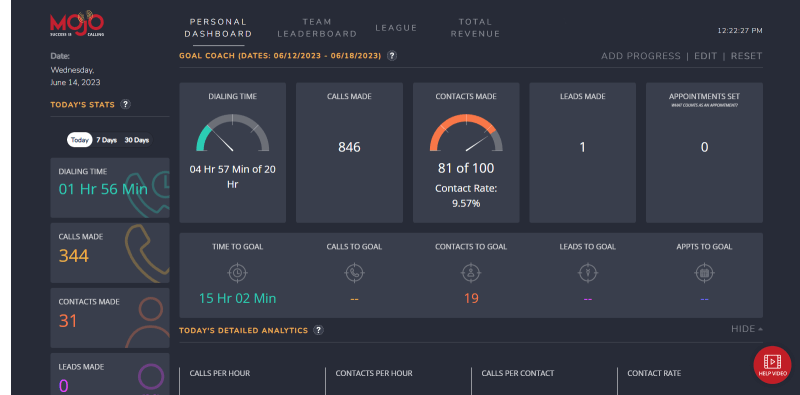 Track Your Prospecting Goals with a Dashboard
One effective way to progress towards your prospecting goals is by using a dashboard that clearly displays your important prospecting metrics. This could be on your computer monitor or television, depending on what works best for you. By being able to see your progress, you can stay motivated and stay on track to reach your goals.
Use the Mojo Dialer to Set Prospecting Goals and Measure Progress
The Mojo dialer is unquestionably a great tool to use when prospecting. Mojo allows you to set personal and team goals and track your pursuit of leads in real-time with the Prospecting Dashboard. You can see exactly how much time is left to prospect, how many calls you have remaining, and how many contacts you need to hit your goals. This can be especially motivating if you're working towards a deadline or trying to hit a certain target.
Team Leaderboard Function for Coaching and Accountability
For those who are leading a team, the team leaderboard function can be a useful tool for coaching. By creating a friendly competition, you can make goal setting and tracking more fun and engaging for your team.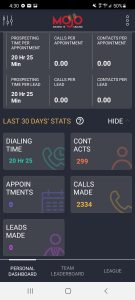 The Prospecting Dashboard is Very Flexible
One of the coolest things about the Mojo Prospecting Dashboard is the flexibility you have. You put it on a TV mounted to the wall to keep the friendly competition flowing. You can review it on your personal computer from within Mojo or you can even take it with you on your mobile device!
Conclusion
Overall, tracking your progress and setting clear goals is an important step in achieving success in prospecting, both as an individual and as a team. Mojo has engineered the Prospecting Dashboard to keep you and your team on your toes, setting appointments and closing deals. So don't be afraid to set your sights high and go after those goals with Mojo!