One of the first things we learn in sales is how important goal setting is. Setting goals is the ultimate motivator. This is especially true when it comes to prospecting.
The new dashboard in Mojo is amazing helps me and my team track numbers and metrics, also helps to know if we are calling bad data! thank you guys so much – Noah M.
One of the difficulties with goal setting is tracking progress. We rely on excel spreadsheets and difficult to use software products. Sometimes, when learning Excel or a new software product leaves us defeated, we turn to paper and pen.
We enter the time of our call sessions, how many calls were made, how many contacts, how many appointments and contact rates; a pain yes, but this is the easy stuff. In addition to the easy stuff, we need to see how efficiently we are prospecting and what our trajectory is towards the goal. For example, how many calls per hour, how many calls per contact, contacts per appointment , etc., – this is the hard stuff.
Now, think about the team leaders having to do this for multiple agents on their teams. This results in a mind boggling amount of work! Forget to track just one or two sessions, and we can easily convince ourselves goal tracking is just too hard, and that leads to defeat.
Real-time personal and team analytics powered by the Mojo Dialer will drive production and increase ROI.
No company has more experience supporting prospecting agents than Mojo. The relationships we've built over the years with the top teams and agents provides us with the industry intelligence. This helps us design the right features and products. And this makes our clients jobs more efficient and productive.
The new dashboard is an amazing tool. My favorite features are call to goal and time to goal! – Eddie J.


This knowledge has given birth to our newest platform add-on – The Prospecting Dashboard.
The Prospecting Dashboard (replacing our Prospecting Analyzer app) automates the goal creation and tracking process. It connects directly to the Mojo Dialer and updates stats in real-time, as the prospecting is happening. Our dashboard gives you the analytics you need to keep yourself, and your teams accountable.
I've been a Mojo user for years now. It has remained a corner stone in my business and over GCI earned. I like the dashboard because it keeps everything on a simple clean page. I am planning on adding an ISA and this will be great being able to see the stats in real time – Absolutely love it! – Denver B.

Single agents will have easy access to their prospecting analytics, efficiency stats and goal tracking from our Personal Dashboard. While team leaders and managers will see the same information for their teams and agents on the Team Leaderboard.
Staying motivated has never been this easy. The prospecting dashboard shows your trajectory towards goal and how you're tracking – and what you need to do to hit it.
For those of you with a competitive spirit, we have something awesome for you. We've baked in a League function where agents can compete for the appointment impresario status amongst their peers – pretty darn cool!
The prospecting dashboard is compatible with all your devices .
You can view the dashboard several ways. First, you can view it within your computer browser in a separate tab. Or, if mobile is your thing, you can download our unique Mojo Dashboard app. If you're really ambitious and want to really motivate yourself of your team, throw a TV up on the wall and view it there (really, you can, it's optimized for this).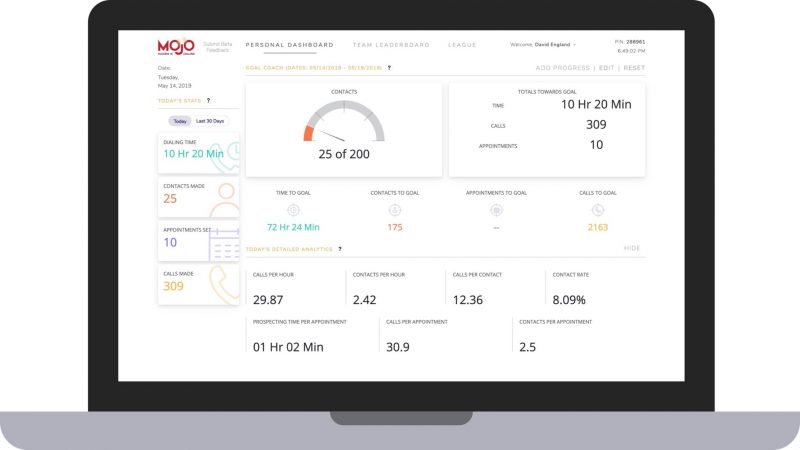 The Personal Dashboard shown in browser, on a computer. This is a great way for agents to view their goals and prospecting metrics.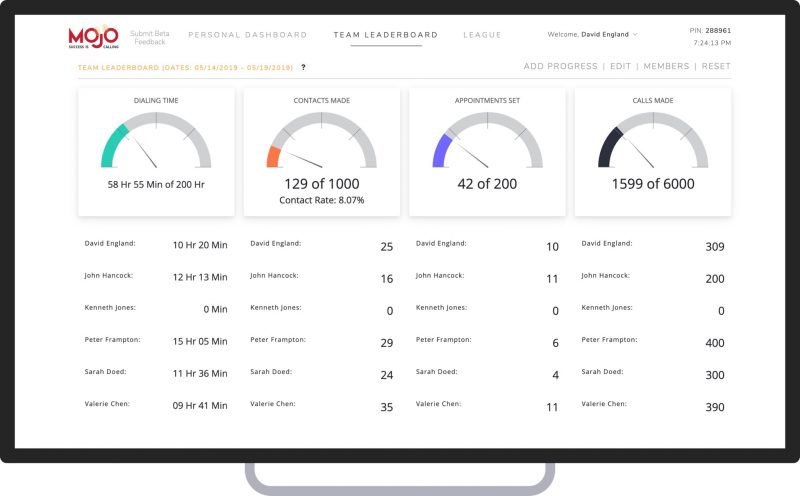 The Team Leaderboard on a television. This is a great way to motivate a room of prospecting agents and visually promote goal progress.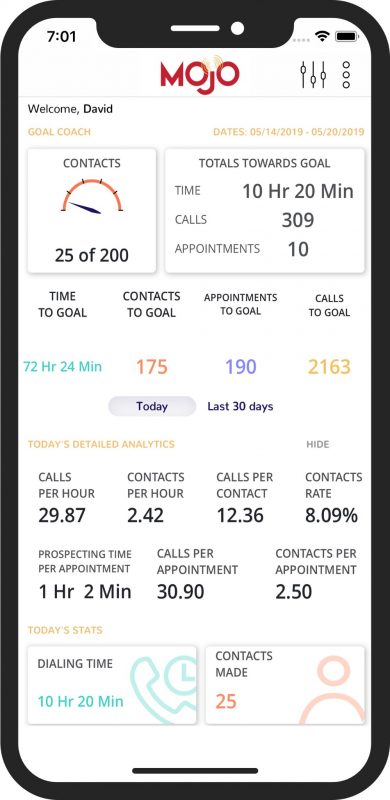 Both the Personal Dashboard and Team Leaderboard are available in our dedicated mobile app for iOS and Android – giving any agent or team leader insight on their team – on the go.
The new Mojo Prospecting Dashboard bridges the 'I think' to the 'I know' when it comes to your personal and team performance. You'll set clear goals, see your progress towards your goals and know what to do to hit them – all in a good looking, easy-to-use dashboard. For a demonstration of Mojo's Prospecting Dashboard, click the image below:
The Mojo Prospecting Dashboard will first be released as public beta for all Mojo clients without the League functionality. We welcome and look forward comments and suggestions during this period.