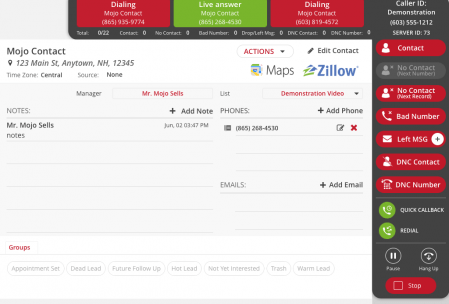 It was six years ago when we released our first mobile prospecting app, and since then, we've been on a constant development cycle bringing new products and updates to the mobile market. What started out with the Mojo Dialer on the iPhone, has become a suite of products for both the iPhone and Android platforms, designed to make the modern prospector efficient on the go.
Today, we're excited to announce that we've just released our latest mobile Mojo Dialer iOS application, Mojo on the Go! for iPad.
This new app borrows much of the user interface and functionality of our new Mojo 2.0 platform, making the learning curve virtually non-existent to those familiar with our new web-based platform. The backend has been completely overhauled, giving the user a faster more reliable app experience.
Navigation through the app has improved significantly, and we've included our new dialing bar in to the app, for a better dialing experience.
Synching of data throughout the Mojo cloud is much improved also, giving our new app a much 'lighter' feeling- with 'smart' synching, without the need to store data on the device- the app is blazing fast and has a minimal impact on the device resources.
Lastly, we've included the new Mojo 2.0 activities area in the new app, putting all of your follow-up activities (calls, tasks and appointments), in your hand, and on the go.
For more information about the mobile applications Mojo offers, please visit the corresponding store: iOS devices, Android devices .