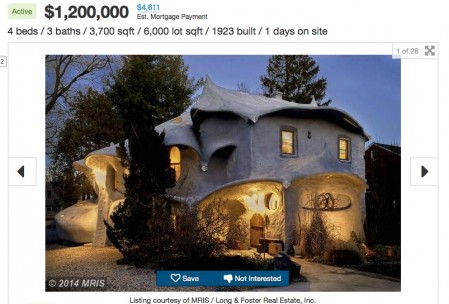 As far as real estate landmarks go, this Bethesda, Maryland home is a winner.
This unique 4-bedroom home with high beamed ceilings and an in-law apartment has more nicknames than the roster of a professional sports team. Locals alternately call it the "Mushroom House," "Flintstones House," "Hobbit House," "Blob House" and "Smurf House." Based on a quick glimpse at the cavernous interior, my vote goes with the Flintstones' moniker: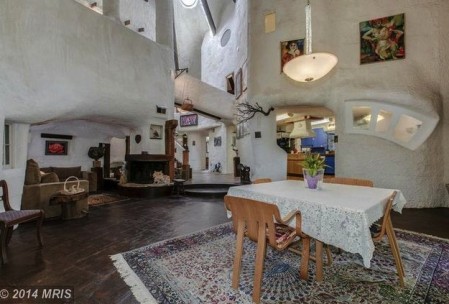 This architectural curiosity was still on the market when we published this blog (see full listing here). The 1923 home was designed by futuristic architect Roy Mason, one of the founding members of the World Future Society. In the future apparently, we'll all be living inside mushrooms.
Owners Edward and Frances Garfinkle told Bethesda Magazine that living inside a roadside attraction has its benefits. So many people slow down to stare at their home that for pedestrian safety, "it's better than a speed bump." (You can save some gas by taking a virtual tour here.)
But making the public smile isn't necessarily a fast pass to closing a deal. Fame won't pay the nearly $4,400 monthly mortgage.
Often, a home's intriguing history isn't enough to sell itself.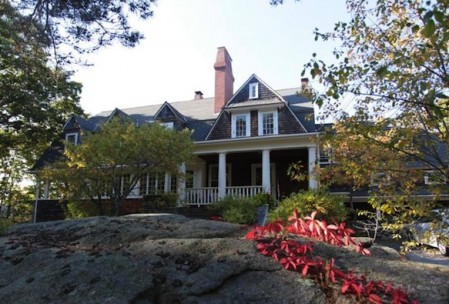 The Massachusetts estate pictured above is the childhood home of Nobel Prize laureate T.S. Eliot (1888-1965). Attending a recent Open House, a Boston Globe reporter noted that the Realtor displayed the writer's bio alongside information about the home's water and sewage systems. One potential buyer identified himself as a T.S. Eliot fan, revealing that his wife had just read the poem "The Love Song of J. Alfred Prufrock" aloud to get them in the spirit for the tour.
However, the Globe noted that several area real estate listings with prominent literary history have lingered on the market for a while. The late novelist Norman Mailer's $3.1 million Provincetown, Mass. home took a year to find a buyer. Legendary humor columnist Art Buchwald's $1.4 million Martha Vineyard home took nearly three years to sell. And nearby, fellow Vineyard resident and kids author Judy Blume's $4.75 million waterfront property took two years to change hands.
If you're an aspiring writer and hoping that prose will just emanate from the drywall into your veins, the good news is that "Catcher in the Rye" author (and notorious recluse) J.D. Salinger's house in Cornish, New Hampshire is still on the market. On 12 acres of land with its own stream and dramatic views of Mt. Ascutney, the house's asking price is $679,000.
The family's real estate broker Jane Darrach joked to the Globe that there are three words that are far more influential in her business than anything that Salinger wrote: Location, location, location.
(You don't have to represent famous clients to benefit from Mojo's Real Estate Dialer and Real Estate Lead Service. Find out how Mojo can help you be more productive, better organized and dramatically improve your real estate prospecting results!)