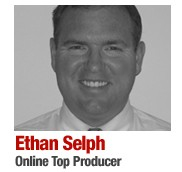 Over the years, Utah's Ethan Selph has sold satellite dishes, cable TV packages, security systems, water filters and prepaid legal services on the phone.
Today, he's one of the rising stars in the health insurance industry, sharing advice to other sales people how to maximize their chat time. To Selph, it doesn't matter what you are selling as long as you don't come across as the stereotypical sales guy.
"Don't sound like a total marketer," he suggests. "I don't even mention the name of my company. I say, 'Hey, it's Ethan' instead of trying to come across as some big corporation. I try to sound like the Joe down the street."
Another tip to project confidence: Don't think of yourself as "bothering" or "interrupting" the people on your prospect list.
"There are a lot of people out there who NEED your help, people who WANT to talk to you," he says. "Everyone wants to save money. My philosophy is that every client is worth $20,000. My goal is to make a thousand dollars a year for 20 years. I want to service them for life."
"Even with all the fuss over health care reform, the business really hasn't shifted around much. Health insurance is a necessity. It's not like going on vacation to Hawaii or going out to eat, the things that get cut back first."
Selph swears by the Mojo Triple Line Power Dialer, which he has been using for the past 10 months. Before implementing the Mojo dialer, he hired a telemarketing call center to do the dialing for him. The call center was charging $10 a transfer and Selph was spending between $600 to $800 a week for the privilege to continuously talk with live human beings.
That's now $800 more in his pocket each week thanks to the Mojo Dialer and its 3 line power, which ensures that you'll never hear a busy signal, fax machine pitch or manually leave time sucking  answering machine messages again while you are on your sales shift.
"It's totally revolutionized my whole business," Selph says. "If I didn't have the Mojo Dialer, I'd really be up the creek."
In addition to the money saved from not using a call center, the Mojo Dialer has also totally eliminated Selph's need to buy additional leads. Having built up a critical mass of 5,000 prospects, he now devotes each day's 100-200 live calls exclusively to insurance renewals. Business is so brisk, he doesn't even need to bother to tap into new leads, which were costing him a steep $16 each!
Given that insurance companies typically lure customers in with low introductory rates and seldom lower them the following year, it makes sense to check in on active clients at least once every six months.
Before using the Mojo Dialer, Selph did not have enough time to even call all his renewal prospects within his window of opportunity.
"I was losing accounts," he recalls. "After 9 to 12 months, they'd just switch insurance companies without me. And once you lose somebody, it's tough to get them back. Basically, the Mojo Dialer has tripled my business."
And the increase in sales meant hiring three people to work out of unfinished basement and eventually moving everyone to an office near the University of Utah to take advantage of the college labor pool.
Selph said he has previously tried two other auto dialers, but was either unsatisfied by its slow pace (one call at a time) or the response time to his customer service calls rerouted to overseas call centers.
"With Mojo Technical Support, I can usually get someone on the chatline within two or three minutes," he says.
Given our occasional role as frustrated consumers in our own personal lives, we can think of no greater testimonial.
One last tip from Selph: Set your Mojo Dialer at six rings instead of three rings. Give your prospective customers a chance to get to the phone without sprinting for it!
"I used to get a lot of calls back right away, saying WHO'S THIS?" he says. "I'm now getting a hold of a lot more people the first time."
(Click here to find out more on why Mojo lead management software and power dialer technology is ideally suited for the competitive insurance industry.)