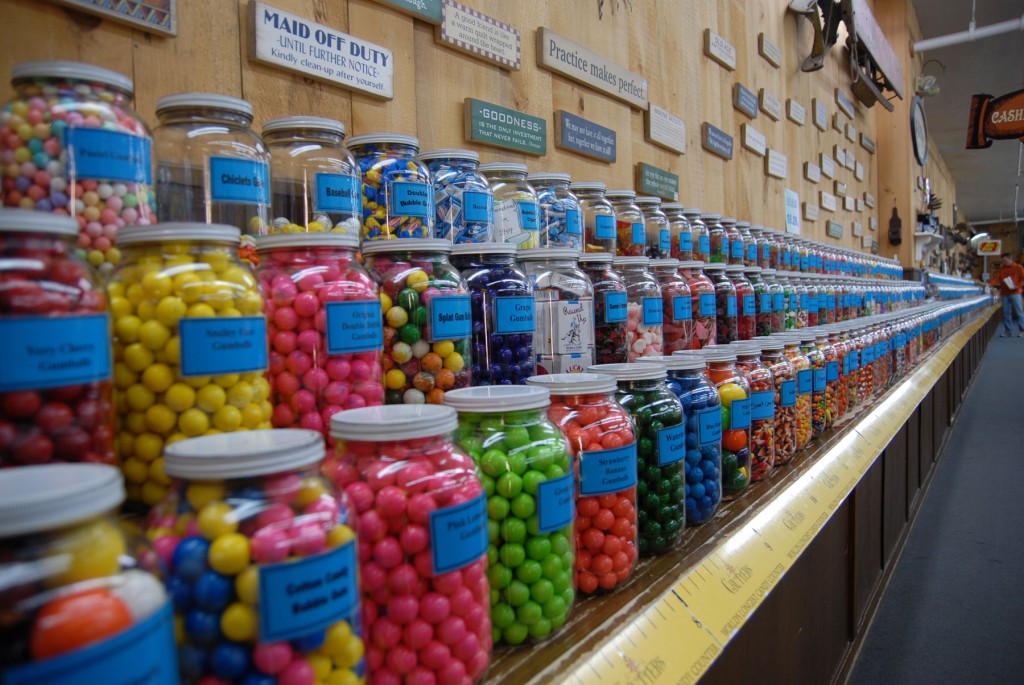 If you've ever had the pleasure of working with our technical support department, you know that we proudly keep our staff specialists in house and don't patch your call overseas where some robotic voice reads from a script. We love that we're based in Small Town America, Littleton, NH, and that our world likely mirrors the communities of many of the Realtors and independent insurance agents who use Mojo to boost their business.
We encourage all of you to consider New Hampshire's White Mountains as your next vacation destination, but realistically realize not all of you can make it. So, in the spirit of vicariously sharing our community with you, here are a few tidbits you'd discover as a tourist in Mojo's backyard.
First, we're delighted to share real estate with one of New Hampshire's sweetest landmarks, the World's Longest Candy Counter at Chutter's.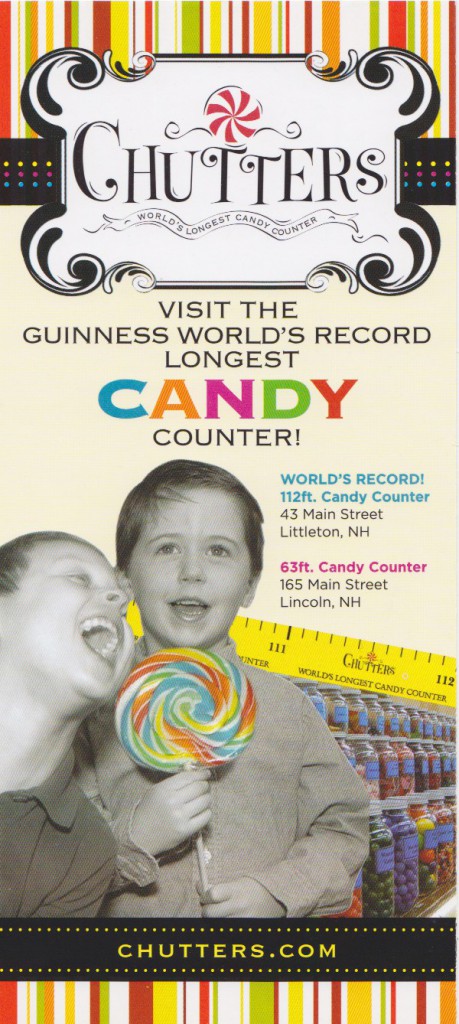 It's astounding that there is such a World's Record, but if any enterprising retailer out there can extend their jelly bean turf beyond 122 feet, fame and fortune awaits you.  For research purposes, I just examined each old-fashioned candy jar and was impressed with the variety of flavors of malted milk balls as well as their selection of "vintage" or "retro" candies like Wax Mustaches, totally un-PC but yummy Candy Cigarettes, Squirrel Nut Zippers,  Black Jack gum and  colorful Wax Bottles.
Did I say "yummy" Candy Cigarettes?  Sorry, I got carried away with the nostalgia. They still taste like chalk.
Almost as fascinating as the candy is the store's historical backstory:
"Chutters is named for its original owner, Frederick George Chutter, a Congregational minister who came to Littleton to preach but instead, resigned his ministry for the dry goods business, eventually becoming a well-loved and prominent member of the community. A brochure from the era claims, "Mr. Chutter is a warm-hearted, cordial, and enthusiastic man, of optimistic temperament, and much interested in the welfare of Littleton."

"More than 100 years later, the shop retains his name, and the hospitality for which Chutter's General Store was renowned still resonates throughout this delightful shop."
Amazing.
Can you imagine your business lasting 100 years?  Well, if you're cultivating lifelong customer relationships with Mojo's lead management software and Triple Line Power Dialer, you have a chance to build something that you can sell or pass on to the next generation.
There's plenty of places to buy sugary sweets in the world. Chutters stands out because they have creativity and marketing spunk.
Just like the town of Littleton itself for embracing its history as the Birthplace of Optimism.  Well, the birthplace of novelist Eleanor Hodgman Porter, who wrote "Pollyanna," the inspiring story of an orphaned girl with a jubilant spirit and outlook on life. The book was a best seller in the 1910s and became a Broadway play and movie. The character was so popular that the term "Pollyanna" wound up in the English dictionary, meaning "a person characterized by irrepressible optimism and a tendency to find good in everything."
The Pollyanna statue in front of the town public library has become a magnet for tourists, who find it irresistible not to pose for a photo-op doing the "Pollyanna Wave."
Our contestant in the 2012 Miss America Pageant, Regan Hartley, hails from Littleton and she couldn't resist either. Apparently, it is considered good luck to rub the feet of the Pollyanna sculpture. We're optimistic that if enough tourists do this, America's economic woes will disappear. There's no Guinness Book of World Records entry for "Most Optimistic Town" in America, but there should be.
We'd also like to see an official Guinness Record for "Fastest Voice Connection for a Power-Dialed Prospecting Call."  Have you heard about the superior speed of our "First Hello Technology?"