Sure, the golden time for giving gag gifts is now over — anyone get stuck with anything insane from your family's holiday Yankee Swap?
However, there's really no bad time to amuse your Realtor friends or employees with some MLS listings for extraterrestrial house plots.
In the same spirit of buying and naming a star after someone, the Lunar Embassy will sell you a one-acre moon lot for the bargain price of $22.49 (plus a $1.51 "Lunar Tax" and $12.50 for shipping and handling of the deed).
Hey, if you look at NASA's fact sheet on the moon, there's now approximately 14,647,439.75 square miles of open space ready for developers!  And thinking about New Year's Resolutions, you weigh a lot less up there, too.
There are many reasons to be skeptical that your Lunar property deed might not ever be graced with that dream vacation home (with a great room and sauna) you have been planning in your imagination. The "real estate" company itself starts off its FAQ in defensive mode, giving you its assurance that you are not taking part in a fraudulent transaction.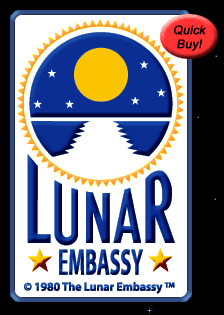 But here's why I don't trust the validity of their property claims: They don't even bother to use spell check!
A quick example from their FAQs:
"Whilst we are on the subject, we would like to take this opportunity to give you some useful tips to avoid fraud on the Internet: Beware of pyramid shemes, sites that say you have won a prize but they want money up front before you can collect it, some business opportunity shemes, "get rich quick" shemes, work at home shemes and sometimes, even sales of computer equipment (you pay, and the computer equipment never arrives). These are the most common types of fraud to be found on the Internet according to recent statistics. Don't give your bank account number or social security number to just anyone, unless you know the company that you are dealing with."
C'mon, Lunar Embassy, are you not familiar with the word "scheme?"  How can I buy into a scheme even for fun, if you call it a "sheme" four times?
Credibility is vital for all real estate prospecting, of course, especially the Earth-based homes you likely specialize in.  When you are calling your Expired, FSBO, SOI and just listed/just sold leads, having the Mojo Triple Line Power Dialer will ensure that when an autodialed call is answered, you will hear the first "hello" and not the third, fourth or fifth.
Nothing is worse than representing yourself with the impression of a robo-call, an instant turnoff for most potential customers.
You may as well be doing cold calls for lunar real estate.
Which reminds me to leave you off with an invaluable piece of Realtor advice:  Definitely avoid the Lunar Embassy's Venus property, no matter how tempting the price.  Surface temperatures on Venus can reach up to 860 degrees Fahrenheit.  And in that climate, there won't be cold calls of any kind!