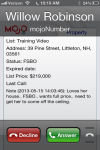 Answering callbacks blindly is hurting your sales conversion.
At Mojo, we love solving problems and one such problem was our customers not knowing who it was calling them back after prospecting with the Mojo Dialer. Think about this, the average callback rate when NOT leaving messages is about 10%. This means that if you dial 100 leads per day, approximately 10 leads are going to call you back from seeing your caller ID alone. Now, if you drop messages, callback rates jump to 15%-20%. Now you have 15 to 20 people calling you back. If you are like most of our customers, you actually make somewhere in the neighborhood of 200-300 calls per day, making the number of callbacks go up dramatically. This means unless you are ignoring your callbacks and letting them go to voicemail (bad idea), you are taking a lot of calls unprepared and it is killing your sales conversion rate.
Mojo ID empowers you to answer callbacks.
Last year we released Mojo ID, the sales app for iPhone, to solve this problem. Mojo ID increases your sales conversion by displaying contact information as an image when your leads call you back on your iPhone. With Mojo ID, instead of taking callbacks blindly, you know who is calling you back, their status in Mojo, your last call data, any notes from the call and if you're a Realtor, their MLS status.
Mojo ID gets an update.
We have recently updated and improved Mojo ID for our new web based Mojo Dialer. Updates include the following:
Auto synching between app and address book

Ability to synch all lists and groups
More intuitive user interface
Better distinction between contact and property records
Full compatibility with our new web based Mojo Dialer
You can download the new Mojo ID sales app for iPhone clicking here!
Watch Mojo ID here in action!