What is your prospecting speed?
For years Mojo has been the leading power dialer with both single and triple line auto-dialing options. Customers consider their prospecting needs and decide which speed works best for them.
Either way, the Mojo power dialer automates the call flow leaving users to decide whether they want to prospect fast or slow. There are other efficiencies gained above just the dialing speed; our clients also benefit from full call automation. After each call, using both the single line power dialer and the multi-line power dialer, Mojo moves on to either the next available phone number for the contact or the next contact. This seamless action is what so many clients have enjoyed while using Mojo.
After 11 years of serving the hosted power dialer market, we're seeing a new customer – a customer who needs flexibility – a customer that needs a dialing mode that complements our recent CRM and follow-up feature additions.
We introduce to you, Nurture Dialing.
The biggest update to our dialer technology in five years – nurture dialing mode is a new semi-manual, single-line dialing method. It's great for previewing property and contact details before dialing them – so you are better prepared. It is also great for completing follow-up calls scheduled by Mojo action plans.
In a truly automated dialing mode, it is difficult to preview the contacts and leads before the line becomes active. For a lot of new users or agents making follow-up calls needing review, this can become a burden.
This new method automates the queuing up of calls and the dialing of the numbers. However, it requires the user to move from call to call using our new Call Next Number and Next Record buttons; making for a more intimate prospecting experience.
Check out Nurture Dialing in action by clicking on the image below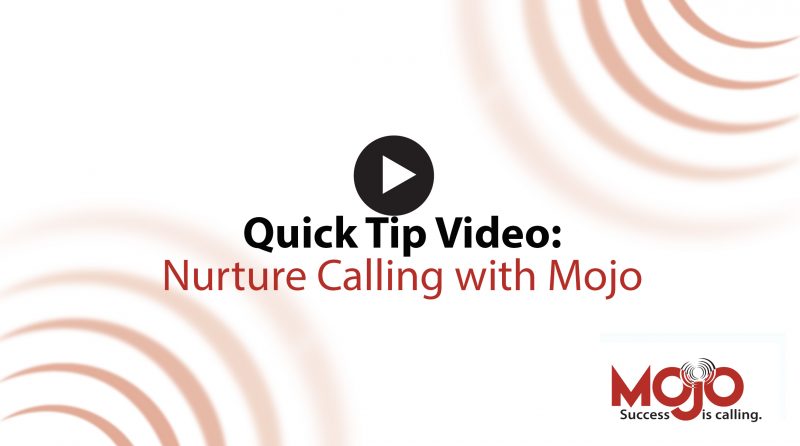 We are excited to offer this new dialing method in response to the changing needs of our clients. The feedback we've received has been some of the best after releasing an update. We look forward to more improvements to the entire Mojo system in the coming months!