Finding the name and contact information associated with a property can be a lot like trying to find a 'needle in a haystack'. This information is critical to anyone looking to call on off-market properties such as Expired, Cancelled and Withdrawn listings. This past year, we made the commitment to offer a service that would assist our customers with acquiring this hard-to-find data and created the new Mojo Reverse Look Up phone number Service.
We identified a need for a low-cost, high quality data appending source for Expired, Withdrawn and Cancel properties, so we came up with a solution, the new Mojo Reverse Look Up phone number service.
Our new reverse look up phone number service is ideal for those customers seeking an affordable, easy-to-use solution for acquiring contact information for their Expired, Withdrawn, Cancelled or any other property data or those customers who are happy with their current lead provider but would like the ability to append records they have deemed as bad number using the Mojo Dialer.
Affordability
Here at Mojo we know that price matters and we wanted to launch our new reverse look up service at a price that made it a no-brainer for customers that want to use it as a stand-alone service and for those that want to use it as a supplement to their current lead provider. The cost of the new reverse look up phone number service is only $40 per month and includes unlimited data look-ups. Also, it's no secret that at Mojo we don't like contracts so you won't find any long-term contracts needed to lock in at this low rate!
Ease of Use
Accessing the power of our new reverse look up phone number service is as simple as logging in to the new web-based Mojo selecting a list of data and pressing a button. Want proof? Watch the video below. Never before has so much information been at our customers fingertips.
There are several ways to complete the reverse search:
1. One at a time:
Simply add a new contact and press the reverse look up button on the contact form.
2. Batch List:
Select a list from the data area of the new Mojo and select the reverse look up button. It will immediately begin to process your records and check your addresses against our huge database of residential data and real-time data sources.
3. Data Append: 
For those customers that use another company for their data, our reverse look up phone number service can easily append the data that is marked bad while dialing. With the Mojo Dialer, users who identify a bad number simply choose the last result 'bad number'. Then, in the lists they are dialing on, they create a sublist for 'bad number' last result. As they dial and choose this last result, the bad number sub-list grows. At any time, users can simply highlight the bad number sub-lists and select 'reverse look-up' which will then process all the records in the sub-list and update the contact information accordingly.
Check out our Reverse Look Up Demonstration Below: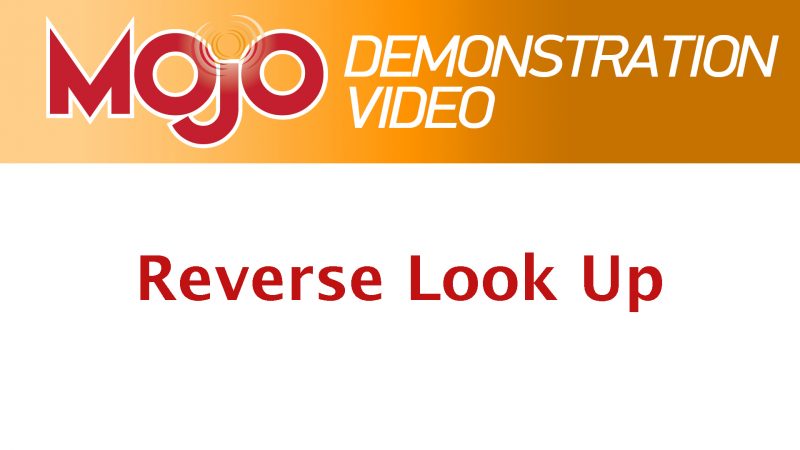 If it is high-quality, low-cost data that you are looking for, Mojo's new reverse look up phone number service might just be what you have been looking for. With no contracts and a low monthly cost, there is no-risk, sign up today!