Improvements, refinements, more features and a ton more value – that's what you can expect in the new Mojo Dialer 2.0 platform.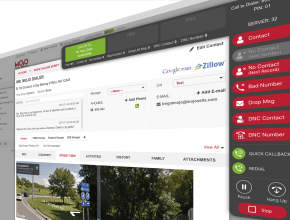 It was this time last year when we sat down with our design team and asked this question: What can we do to make the Mojo Dialer more user-friendly, easier to use, more feature packed… and most of all, appeal to a broader audience?
We turned to our client feedback
Since releasing the Mojo Dialer and Prospecting System on the web 3.5 years ago, we've collected a TON of user feedback. We captured input from heavy users, casual users, hard-core prospectors and the weekend warriors. All of this feedback spilled on to paper, then in mock-ups, and finally, in the web-browser.
We began testing the new platform this past December, and began our soft-launch to clients in April.  At this moment, about 1/5 of our clients are using, and loving the new platform!
What to expect
We 'trimmed the fat' from the entire platform, streamlining the user interface at every corner. We made the dialing workflow more intuitive, added  new dialing features such as our new Dialing Bar, and select-to-dial calling mode.
We revamped the follow-up activities area, making it cleaner, easier to use – giving you every reason to start making more follow-up calls, and setting more appointments.
We've added new integrations, we've integrated with Zapier so you can connect Mojo to hundreds of other apps like Bomb Bomb, Sales Force, Infusionsoft, Contactually and many, many more.
We'll save the rest for our official announcement, stay tuned!
We expect to have all of our clients on the new 2.0 platform over the next six weeks, slowly releasing to groups of clients until complete. This is the approach we took to make sure we could offer the necessary support during the transition. We will be releasing to new clients soon and look forward to a more detailed blog post then.