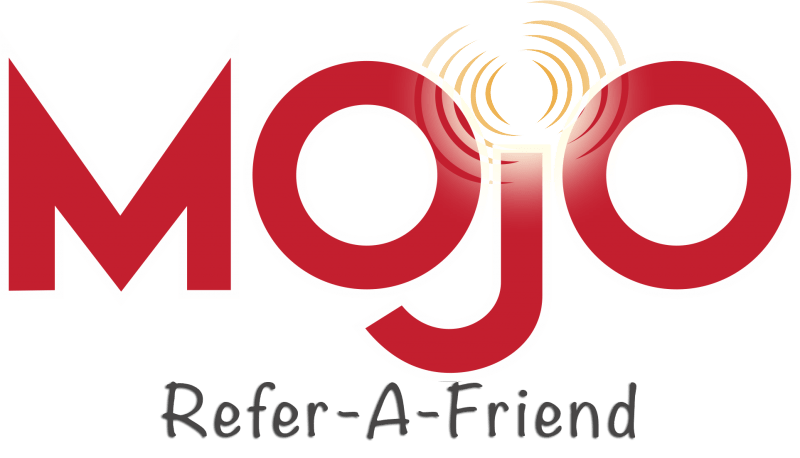 What better time than now to announce the Mojo Refer-A-Friend is back! The approaching industry events make it prime time to refer your friends and colleagues to the Mojo Dialer system and earn rewards to be used towards your subscription or one-time pay products like FSBO, Skip Tracer and Neighborhood Search.
Here's how it works:
From the Account area of Mojo, customers enter their referrals email address and send customized email inviting referral to Mojo.
 Referral is logged with status in customers Mojo account.
Referral receives Refer-A-Friend email.
They sign up using the email associated with their Refer-A-Friend invite.
Referral status changes to indicate they have signed up.
Once referral has completed their 5-day grace period. The status is updated in the customers account area and reward credits are applied to their Mojo Bank.
Rewards are paid as follows:
Referrals that purchase Triple Line License: $50
Referrals that purchase Single Line License: $25
Mojo Bank Rewards can be used for the following:
Applying refund to previous monthly subscription payment.
Purchasing one-time payment services such as Neighborhood Search, FSBO data (both real-time and aged) and Skip Tracer.
Of course, with anything great, there is some fine print:
Only users of the web-based Mojo Dialer are eligible for the refer-a-friend program.
Referrals MUST sign up with the email that you enter for them. This is how we track referral statuses and WHO should be receiving the credit.
Referrals are cross-checked against our customer database and other referral emails to prevent double submission.
If you cancel our service, the Mojo Bank is reset to zero.
Only active Mojo customers can use the Refer-A-Friend program.
Credits are a one-time payout, not recurring.
Don't delay! Head over to your account section and start referring your friends and colleagues today!