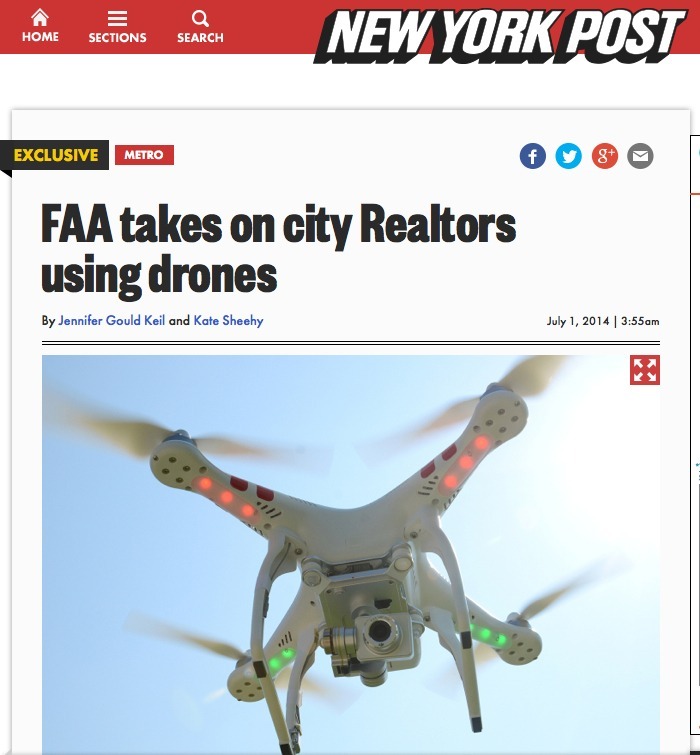 Drones. Drones. Drones. They are at the center of debate in U.S. foreign policy and military conflicts around the world. They're shaking up the commercial sector with buzz about Amazon.com wanting to deliver packages with them. And now, they're even causing a stir in the real estate universe.
According to press reports, the Federal Aviation Administration projects that up to 7,500 commercial drones will be in the air by 2018 — and that annual global drone spending is about to jump from $6.4 billion to $11.5 billion over the next decade.
But for now, the FAA wants to put the brakes on any real estate drones. The New York Post recently reported that the federal agency has been bringing real estate agencies to court this summer to block the use of unauthorized devices. The Realtors could be hit with fines for unspecified amounts if they ignore the warnings.
"We have a mandate to protect the American people in the air and on the ground, and the public expects us to carry out that mission," the FAA wrote in an official statement.
With real estate fetching a premium in Manhattan and Long Island, it's understandable why agents would want to market their high-end properties from the air.
"You can get drones online for 1,500 bucks,'' one broker told the Post. "It's a lot cheaper than hiring a photographer and a plane for an aerial shot. As long as they aren't used for spying, what's the problem?''
Mashable notes that this debate over drones in neighborhoods may be more about money than national security:
The FAA allows amateurs to fly drones without special authorization, so long as they do it within line of sight, below 400 feet, and no closer than within five miles of an airport. This distinction, according to some experts and some realtors, is unfair.

"Note how absurd the FAA's rule is," Gregory McNeal, a law professor at Pepperdine University who writes about drone laws, told Mashable. "Photos of buildings for fun are lawful, the same photos for realtors is unlawful."
In the YouTube Era, prospective real estate customers expect video as the norm — and studies have shown that home buyers spend more time on a web listing page if there is drone footage and that homes with such footage get more inquiries.
The Des Moines Register reported that many Iowa real estate agents are ignoring the threat of fines to explore the benefits of showing clients a bird's eye view of a property. Said one broker: "We see other people in the real estate industry using them, and my feeling is it just seems like too good of a tool not to use. We just figure we'll ask for forgiveness later."
Is the FAA being unreasonable or are they saving us from seeing our neighborhood skies saturated with flying toys every time there is an Open House?
Have you been considering adding a drone to your technology tool belt for real estate marketing? Drop us a line at info@mojosells.com
Flying robots won't help with your prospecting calls. But Mojo has some pretty snazzy technology of its own. It's safe to say that using the Triple Line Auto Dialer — or Mojo on the Go!, our autodialer app for the iPhone and iPad, will not raise any eyebrows with the FAA!