With the launch of our web-based platform comes a new licensing structure sure to please any company looking to use the Mojo Auto Dialer in their businesses. Whether you are a single user, a team of individual sales agents or a call-center, our new licensing structure has some major advantages over the competition.
For years, our auto dialer licenses had been unique to each agent login. Meaning, if you wanted 5 agents to use our auto dialer, you needed to purchase 5 unique dialing licenses. For many companies, this was a good fit because their needs required that the 5 agent logins be able to dial at the same time. However, a growing amount of companies, looking to save money, began looking for the ability to have multiple agents on an account, staggering the use of a few auto dialer licenses. This need helped give birth to Mojo's Rover Auto Dialing license.
Sharing a dialing license between agents is not that uncommon at Mojo, but it did come with its fair share of complexities. First, because the license was unique to an agent login, having more than one person using a agent login/license  meant that the dialing reporting was not accurate. Manager's did not have an easy way to determine which person was using the license at the time of the reporting. Additionally, by sharing a license intended to be used by one agent, agents setting appointments or creating hot leads were not able to work their leads efficiently as their hot leads and appointments were mixed in with whomever they were sharing the license with.
'Mojo's new Auto Dialer license structure encourages both the sharing of dialing licenses between agents and call center shift work'
But that was then… Today, we offer the rover license and the ability for account owners to either dedicate auto dialer licenses to an individual agent OR leave it wide open so that many agents can share it among each other.
Let's take a look at a real life example: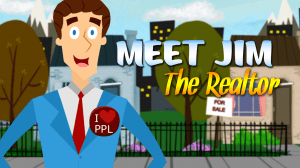 Meet Jim! Jim owns a Real Estate firm that utilizes appointment setters for their just listed/just sold campaigns and internet buyer leads. His appointment setters work for his licensed real estate agents, setting listing appointments throughout the day and distributing them to his real estate agents. Let's say Jim has 5 part-time appointment setters  in his office and 8 full-time real estate agents.  He runs two shifts for his appointment setters, 3 agents from 9am-1pm and the other 2 from 1pm-5pm.  His 8 real estate agents are in the office throughout the day but mostly work from home offices and on the go. With our new auto dialer license structure, Jim is going to get a ton of value and give his appointment setters and real estate agents the flexibility and tools they require to be successful.
'Mojo's Rover Auto Dialer license is a force multiplier for brokers and owner that have sales teams, here is how Jim decided set up the Mojo Dialer system for success!'
13 $10 Lead Management Licenses
Jim requires all of his appointment setters and real estate agents to have access to the company Mojo account. They need to read and write hot notes on prospective clients, see their appointments and to-do's and they need the ability to call out using Mojo.
3 $139 Triple Line Dialing License (Rover Enabled)
Jim's appointment setters need to be as efficient as possible. Although he has a total of 5 appointment setters, he only needs 3 triple line auto dialer licenses because they can be shared and he only ever needs 3 dialing at the same time. Jim saves a TON of money here and Jim LOVES saving money.
1 $89 Single Line Dialing License (Rover Enabled)
Jim requires that his 8 real estate agents touch their past clients once a quarter and wants to make sure they have as many conversations with them as possible. For this, he purchases a single-line auto dialer license to be shared between his 8 real estate agents. He has them communicate when they will be using it so they all get their time in.
With the above scenario, Jim has an office that completes the sales process from start to finish as economically and efficiently as possible. His appointment setters are making a high volume of calls and setting appointments for his real estate agents. His real estate agents are receiving their appointments in Mojo and following them up with click-to-call and email, ultimately acquiring new listings and closing more deals. They are touching their past clients on schedule and getting more referrals than ever.
All this for only $636 per month. Easily the best return on investment Jim will make this year which is exactly why we are very excited about bringing our new Rover Auto Dialer licenses to market!
For more information, give us a call at 877-859-6656 or get your Mojo Auto Dialer today by signing up here!