At Mojo, we have spent the past couple of years daydreaming of the day when we would put the power of the Mojo Dialer on to the iPad's of every sales agent that owned one. It wasn't until recently, when began developing our web-based Mojo Dialer platform, that we began production of the industries first and only, dedicated power dialing and lead management application for the iPad.
For most agents, prospecting requires them to be tied down to their desktop computers or their clunky  laptops. Clunky laptops certainly get you mobile, but they leave performance  at the mercy of your internet connection, which often leaves the user with slow connection speeds, latency in searching for records and an overall frustrating experience . We needed to get a solution in the hands of our customers that kept them mobile but that also gave them unprecedented speed and reliability, thus the dedication to developing Mojo On The Go!.
'Mobility for the working agent has never been so easy to reach, thanks to the Mojo Dialer and the Mojo On The Go! iPad Application'
Mojo On The Go! is exactly the solution we were looking for; it gives agents the mobility they need and its performance exceeds our expectations. With a dedicated iPad application, we are able to utilize the resources of the iPad to complete data intensive tasks such as querying records for starting a call session, for searching data and for general contact management duties. Unlike using a web-based service from a laptop or iPad browser, which depends on a centralized web-server for its resources, the dedicated iPad application gets the job done locally and so fast, it might very well replace the desktop!
'We wanted agents to perform follow-up actions effortlessly from their iPad, so we included touch-to-call, free of charge, for all licenses'
Mobility means many things for our customers but our domain is dialing and setting appointments so we wanted it to be a straightforward, streamlined process for our customers to make their follow-up and appointment calls using Mojo On The Go!, even if they weren't subscribed to a Mojo Dialer 'dialing' license. That's right, a $10 lead management-only license gets you the keys to our 'touch to dial' functionality in the iPad that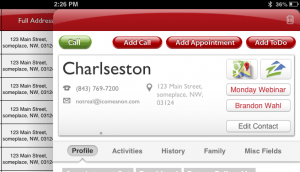 allows you to effortlessly call contacts by simply clicking on their contact record. This simple action, initiates a call back to our customer, once connected, the line automatically dials the contact. Heck, if the user doesn't hang up the phone, they can actually call through a list of records in a row, one at a time which is still much more efficient than hand dialing and these calls can be completed from anywhere, using Mojo On The Go!. Those looking to save a little money, can drop a dialing license for a few months, keep the $10 lead management license and still auto dial through their leads/follow-up using Mojo On The Go! and 'touch to dial'.. Now that is value!
'Mojo On The Go! is available now in iTunes'
We're so confident that this app is going to make a measurable difference in your business, we are offering it on iTunes free of charge with any license purchase. To get your hands on the future of prospecting, go here and download it today!
"Mojo On The Go! is only available for customers of the web-based Mojo Dialer platform. Existing customers using legacy  platforms will be contacted by the staff at Mojo Selling Solutions when the data migration tools are in place to convert over to the new web-based platform"