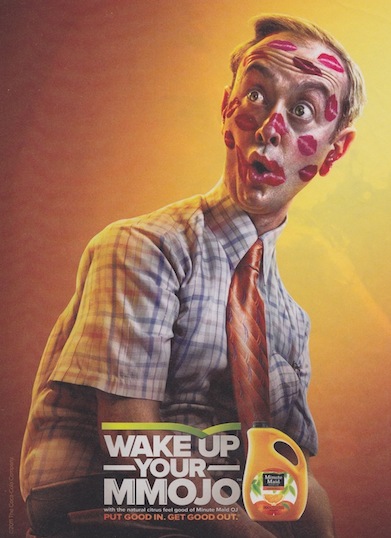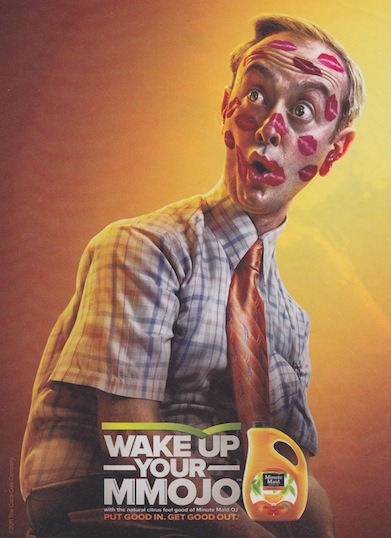 I recently stumbled across this Mojo-themed ad while flipping through some magazines at my dentist's office, which leads me to share two critical pieces of life advice:
1. Always choose a dentist or medical professional who has the latest magazines in their waiting room instead of a tattered pile that looks like it came from a yard sale. If they can't afford brand new magazines, what's the quality of their X-Ray machines or other diagnostic equipment?

2. If you're tired of flipping through magazines wasting your time on celebrity gossip in any waiting room, be sure to maximize your downtime with Mojo Mobile, the free iPhone app for our customers that allows you to make calls and manage your leads from anywhere!
But back to the orange juice ad. Or is it a lipstick ad?
We love seeing references to "Mojo" in pop culture and advertising — as we pointed out in this earlier homage to Austin Powers — but we weren't inspired by the movie. As our company's general manager, David England, eloquently puts it, "When you're at your best and things just fall into place, when customers can't tell you no, when everything is going as planned, when you are living in a 'Yes World,' you have Mojo!"
Now, unlike the OJ ad above, we can't promise that the Mojo Triple Line Power Dialer or our Pitching Coach training tool will cause you to be smothered in kisses. But we can tell you that Mojo's lead management system for Realtors, insurance agents, mortgage brokers and other phone sales professionals will feel as important as a good breakfast.
Mojo's system already triples your productivity — proven results that make long-term commitments and contracts unnecessary on our end — but the breakfast is about to get tastier.
Based on customer feedback, we'll soon be adding some exciting new features in Next Generation Mojo (stay tuned here for the big announcement).  You'll be starting your morning with the Mojo Daily Planner, an intuitive customizable prospecting planner that methodically tracks all of your opportunities and contacts and reminds you when to take the next step.
During each phone call, you'll assign your opportunities, contacts and customers to an action plan. These action plans tell you when to call or email them again or just update them with a soft-sell newsletter with industry-specific consumer tips.
Mojo Next Generation will take even more stress out of your current daily workflow. When you show up to your desk, the Daily Planner will feed you your action plans to follow and there'll be no need to overthink the sales process.
And that means more time to take your best clients out for breakfast and (hopefully) the budget for freshly squeezed juice!